About me - Mendocino Wedding Officiant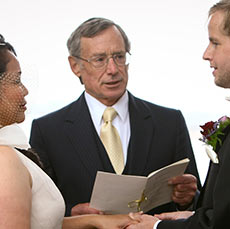 After an MBA and a 10-year New York business career, I realized the high-powered corporate life wasn't for me….and after some time in Europe followed by a six-month trek across the country, I settled here in Mendocino, seeking the better "quality of life" available here. I've been here since – and been grateful for all the unique life experiences Mendocino has given me for the past several decades.
I've been most fortunate to have had a wide variety of rewarding people-serving jobs, including being a teacher, youth social worker, and an addictions counselor. In 2002, the most exciting and significant work I've done occurred when I was asked to be the Lay Minister of the local Unitarian Universalist Church. This opened the opportunity for helping people build more spiritual, meaningful lives, and – one of my greatest personal joys – officiating weddings. A wonderful relationship and son (now 27) have been parts of this good life.
I've always enjoyed a wide variety of interests. Doing political work for worthy causes is one of my favorites. I also love running, biking, time in nature, community development, chorus, writing and word games, traveling, and the great pleasure of good times with close friends.