Testimonials - Mendocino Coast Wedding Officiant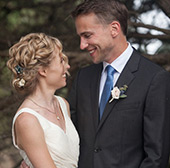 Rick Childs is a wonderful officiant and we are grateful for his role in our wedding. He was very helpful throughout the entire process, from working with us on our vows and tromping through the rain ahead of time to visit our ceremony site, to sharing recommendations that really made the moment special for all involved. His respectful, professional demeanor created a calming and reassuring setting for our big day.
We are very lucky we found him!
- Emily and Dwight, Petaluma, CA
We wanted to take the time to thank you for everything you did to make our wedding day so special.
From our first phone call, we knew we were in good hands. We appreciated all the time you took with us throughout the process. We knew we wanted to do our own vows, but we had no idea where to start. The suggestions you provided (and the examples of others you sent) helped us find just the right words and tone for what we wanted to say to each other.
We appreciated all your little "extras"….the wedding booklet of our ceremony, the help getting a photographer, all the "hand-holding" along the way. Thank you! Our wedding day would not have been the same without you.
- Margaret and Donald, Oakland, CA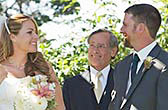 We are very blessed to have had such a wonderful officiant for our wedding. Rick's words set a beautiful tone to our ceremony. He is organized, kind and articulate. He helped us express to each other what was in our hearts during such a memorable moment in our lives.
- Brieanna and Dylan, Santa Rosa, CA
Charlene and I would like to let you know how happy we were on our wedding day. So many people approached us on the relaxed atmosphere of the wedding. We'd both been a bit nervous about everything, but those butterflies disappeared after our wedding rehearsal; you had everything well under control throughout! The ceremony was beautiful and you and your presence were exactly what we were looking for.
- Steve and Charlene, Lake Forest, IL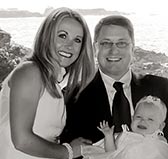 Rick's guidance was much more than what we expected. He took the time to really get to know Keith and me, and especially our little daughter, Maddie. He became "family." We wanted a simple elegant service overlooking the ocean on the Mendocino Headlands. And he helped us find a perfect place. In addition to the marriage ceremony, he also provided a "Blessing Ceremony" for our daughter. The event was so very special to us and our family. To this day, Rick's words still embrace our thoughts and actions. Thank you, Rick.
- Denise and Keith, Corning, NY
Thank you again, Rick, for making our wedding the great success it was!
When I first called you, I was unsure of everything – even the right questions to ask you! But your warm and competent leading me through the whole process made me feel "Here's someone I can really trust with everything!"
After looking at the service you suggested, we knew this was pretty much everything we wanted. You accommodated all our little desires and suggestions. We were a bit intimidated about writing our own vows at first, but your ideas and help made it the best part of our wedding.
The wedding service itself couldn't have been better. My sister said it best… "That was one of the nicest weddings I've even been to."
- Sondra and Bill, Sacramento, CA